Undelivered Letters is the 14th overall chapter of Tegami Bachi Manga
Description
Connor and Niche with Steak are in a room, to which, they have been captured by Hunt and Sarah. Sarah and Hunt are discussing Niche's claws, as they probably are not aware she is of Maka origin, which is to Connor's surprise as he is secretly listening.

Hunt and Sarah were part of different circuses as acts, and should probably have heard of the "Maka Girl;" however, they don't recognize her. Once Sarah sees her claws are naturally as is, and not sown on, she becomes excited. She thought that Niche was one of the Ones Unable to Become Spirit—to which, Connor notes their fake works.

Meanwhile, Gus is trying to figure out a way in to rescue Connor. Soon, Lag is shown talking to the strange girl again, to which, her name is revealed as Ann Grado. She then leads Lag to a bag of undelivered letters, to which, the person who was going to deliver them was attacked by a gaichuu.

Lag and Ann grab the bag of letters and run, to which, the ground begins trembling. Back where Connor and Niche are, Hunt and Sarah begin arguing and Sarah leaves. Hunt heals Niche with a special potion, which causes Connor to ask what he's doing—and Connor admits he heard their argument.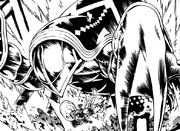 Hunt admits he wants to help people, and not to do the fake business Sarah has gotten him involved in; however, he wants to please her more than anything. He also admits the black
spirit amber
she used was a fake, and that she created an illusion to act as if she was healing people. Another surprise was the Gus pops up under Connor's behind and rescues him.
Soon, a gaichuu, Gaichuu Cidre appears outside, to which, Hunt and Connor go out. Lag and Ann come from underground, to which, Lag and Connor team up to fight the gaichuu. Soon, Hunt yells at Sarah to stop the lies and pushes the townspeople back from Lag. Unable to stop the gaichuu, Zazie shows up to help.
Ad blocker interference detected!
Wikia is a free-to-use site that makes money from advertising. We have a modified experience for viewers using ad blockers

Wikia is not accessible if you've made further modifications. Remove the custom ad blocker rule(s) and the page will load as expected.