Niche
Talk

3
225pages on
this wiki
"Even if Lag forgets me, I will never forget Lag, so we can be together forever."

— Niche to
Lag
Niche
Kanji

ニッチ

Rōmaji

Nicchi

Characteristics

Gender

Female

Age

~200 years old

Hair Color

Blonde
Gold (when it turns into sword)

Eye Color

Blue

Personal Status

Relative(s)

Maka (father)
Twin Sister
Celica (mother)

Debuts

Manga Debut

Chapter 2

Anime Debut

Voices

Seiyu

Ayumi Fujimura

Image Gallery

Niche is Lag's dingo. She travels with Lag, acting as his bodyguard against Gaichuu, and sticks closely to Lag along with her pet Steak on her head.
Appearance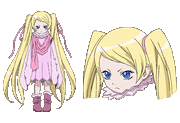 She is relatively short with light blue eyes. She is flat-chested, a fact she is aware of and wishes to change. Her most obvious feature is her long golden hair, which is as long as she is tall. She usually wears a purple (pink in the anime.) dress with oven-mitt-like sleeves to cover her bear-like claws and a pair of boxers (from Lag). 
She also wears pink sports boots. She always carries Steak on her head.
After having a great surge of emotion for thinking she failed as a dingo when she saw Lag was nearly dead, her appearance grew from a child to a teenager.
Personality
Her personality is close to feral and she shows very animalistic-like traits like licking wounds and sniffing for danger. She has a tendency to speak in third person. She is very stubborn but is attached to
Lag
because she sees him as similar to herself. It has been implied that she may harbor romantic feelings for Lag. She seems to be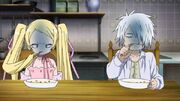 a closet romantic, resorting to violence to benefit a couple. Often confused by commonplace words or customs, her misunderstandings bring a comedic aspect to the story. She is very sensitive of the title Dingo and treats the phrase as an honor. When she and Lag first began traveling together, she constantly reminded him to refer to her as "Niche, my dingo" instead of just "Niche". She has an issue with being flat-chested and constantly attacks anyone with large breasts, turning the complex into somewhat of a comedic obsession.
History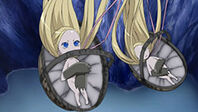 Lag's personal Dingo. She travels with Lag, acting as his bodyguard against Gaichuu, and sticks closely to Lag along with her "pet", "Steak", on her head. She battles using her hair, also known as "The Golden Sword", manipulating it into powerful blade-like tentacles capable of lifting things several times her size. She has bearlike forearms and claws which she usually keeps covered with oven mitt-like gloves. She dislikes wearing underwear, but wears them for Lag's sake (he made her put them on after she accidentally flashed him), claiming that he is the first male to make her wear underwear. Lag assumes that she is 7 years old based on her appearance but she recently revealed that she was born approximately 200 years ago in the town of Blue Notes Blues. Later on in Blue Notes Scale, a cave by Blue Notes Blues, Niche finds out that she has a twin sister with the same power as her and that she was the child of Maka. The sister refers to Niche as "imouto" (younger sister). Her name is derived from "niche", a crevice or narrow space to put flowers as an offering to the Holy Mother.
Lag found Niche at a train station on his way to his Bee Interview. She was a "letter", but the address on her mailing label was incomplete and she was scheduled to be "abandoned" in two more days. Lag offered to take her to her new home according to the mailing label in the local writing, which he thought was an orphanage even though he was on a deadline for his Bee job interview. While traveling, Lag found she had multiple names, so he named her Niche after where he found her - in a niche at the station.
After delivering Niche, Lag found out she was to be put in a sideshow act as "The Child of Maka", Maka being a mysterious being both worshiped and feared in AmberGround's Northern territories. Lag hurried back to Love Someone Down circus with the excuse that Niche's delivery receipt had not been signed. When he got there, he found that Niche had already wrecked the sideshow tent with her "Golden Sword" and gone on the run towards Gaichuu territory. He followed her and consequently saved her from a Gaichuu. She decided to stay with Lag after he explained that her address had become unknown since she had destroyed the mailing label, and she insisted that from then on she would be Lag's "Dingo".
Relationships
this page was removed because there's a lot of relationships related with Niche. so, we created a special page for this category. To see Niche's relationships, please open Niche's relationships.
Abilities
Niche, known as the Child of Maka, uses her hair in battle. Her hair is known as the Golden Sword, and can be manipulated and lengthened as she sees fit. Her hair is capable of lifting objects many times her size, Gaichuu included.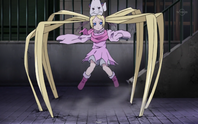 At the start of the series, she is only able to shape it into tentacle like swords and whips. But after spending time with her sister in Blue Notes Blues, she is now able to form larger and more sophisticated weapons and tools such as a closing bug net or a drill.  
Despite the immense power her hair gives her, she cannot use it to kill Gaichuu.
Trivia
Surprisingly, Niche can understand animals like Zazie's and Connor's Dingo, and she could also decipher what Lily's Dingo was saying.
She states her home town and (rough) age.
Quotes
"I see... I see... Bolt is still Aria's dingo!"

— Niche to
Aria
"If Lag forget me, I will never forget Lag, so we can be together forever."

— Niche to
Lag
"If you hurt Lag again, I'll kill you."

— Niche to
Nelli
"If saying "goodbye" makes you sad, then I'll stay by your side."

— Niche
Lag