"Pardon our Dust" - this page is under construction

It may lack information until construction is complete.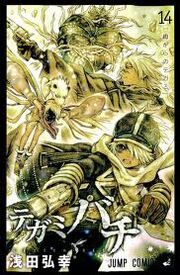 Tegami Bachi (テガミバチ) is a shōnen manga published by Shueisha in Japan and is currently finished at Volume 20 (100 total chapters). The series is serialized in the magazine Jump SQ (previously now defunct Monthly Shōnen Jump). It is written and illustrated by Hiroyuki Asada, with its story set in a fictional land called "Amberground", where an artificial sun only illuminates the capital of the land, Akatsuki. The story follows the main character Lag Seeing, a letter bee who has a special ability to see the memories of people and items, and his personal dingo Niche on their journeys around Amberground.
Viz Media announced that it had licensed Tegami Bachi (otherwise known as Letter Bee in English translations) for an English-language adaption in North America at the Comic-Con International on February 28, 2010. It is currently releasing the English version of the manga in the tankōbon format, with 8 volumes released as of February 2012. Additionally, in Australia and New Zealand, another English version of Letter Bee was released by Madman Entertainment.
Tegami Bachi was also translated into various languages like Chinese, Italian, French and Spanish, and released in their respective countries like Taiwan, Hong Kong, Singapore, Italy, France and Spain.