"Pardon our Dust" - this page is under construction

It may lack information until construction is complete.

         "Although that boy is good at fantasizing, his lying skills are horrible. It's funny, isn't it. But, what's important isn't the contents. I'm happy as long as he writes to me like this. Always trying to put up a brave front, while his lying is horrible. This letter... is just like my son."
                                                                                                - Louisa Alcott to Lag
Louisa Alcott
She is the mother of Vincent Alcott. She made her first appearance in episode eleven Letter of Lies. She was the person Lag had to deliver Vicent's letter.
Personality
She loved her son so much that she sold the original house in order to send him to school. She also can tell that he is lying in his letters, which just makes her more worried. She has a gentle and caring heart to not just to her son, but also to other people. She also shows great gratitude to Lag when he sent her a "special letter" from her son.
History
I. Pre-History
She sold the house in order to send her son, Vincent Alcott, to school. Since then, she lived in a house at the mountain near town which can normally be access be a suspension bridge. One day, Vincent left to Yuusari in order to be a write. She receives letters from him which contain lies about his life in order to avoid making her worried, but she can tell that they were lies (as mentioned by her to Lag in episode 11) and it only made her more worried. However, she was also happy that she could receive letters from her own son.
II. Season One
One day when she was returning home from buying groceries, she saw Lag & Niche at the suspension bridge. When she called him and explained him being the person he was looking for, Lag was relieved to find her and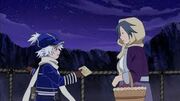 prepared to give her Vincent's Letter. But a Gaichuu appeared from the abyss under the bridge and attack them. As Louisa was taken by Niche to the other side where her house was, Lag went to retrieve Vincent's letter despite being filled with lies because it was his duty as a Letter Bee. After Niche and Lag defeated the Gaichuu & got the letter, Lag's shindan particles touched Vincent's letter and relieved Vincent's true memories. When Lag tried to stop Louisa from watching her son's memories, he stop when he saw her crying. But she replied to him that she was happy seeing those memories because she know the letters Vincent send her were filled with lies to prevent her from getting worried, but it only made her more worried since she knew he was lying. So watching Vincent's true memories made her happy, knowing that her son was doing well. Before the shindan fade, it showed them Vincent not giving up & continuing to write books in order to make his mom proud. After that, she took her son's letter and thank him Lag for both delivering her that "special letter" & giving her hope to live; as Lag cried and hugged her. When it was all over, Lag, Niche, and Steak left using the mountain trail (because the suspension bridge was destroyed by the Gaichuu) as Louisa returned him.
Trivia
1. She lived in a house at a mountain in her and Vincent's hometown, "Breath Mint Gelato".
Ad blocker interference detected!
Wikia is a free-to-use site that makes money from advertising. We have a modified experience for viewers using ad blockers

Wikia is not accessible if you've made further modifications. Remove the custom ad blocker rule(s) and the page will load as expected.