"Pardon our Dust" - this page is under construction

It may lack information until construction is complete.
Joey
Kanji

ジョーイ

Rōmaji

Jōi

Characteristics

Race

Human (Unknown Nationality)

Gender

Male

Age

Unknown

Hair Color

White Smoke

Eye Color

Blue

Professional Status

Occupation

Doll Maker

Personal Status

Status

Alive

Relative(s)

Matilda Rain (Pianist)
Belushi (Childhood Friend)

Debuts

Anime Debut

Fan Letter to the Musician (Season 1: Episode 16)

Image Gallery
               "That's the kind of guy he is. There's no way he could ever say he likes her. That's way as an old friend, I had to stage a play for him."
                                         - Joey to Lag & Niche
Joey
He is the director & president of the cotton mill industry in Yuusari, or in other words, the weaving industry. He is also a fan of Matilda & a friend of Belushi.
Personality
He tends to act as a playboy (a person who like to attract girls). He also act irrational at times & not consider that poetic, by those who know him well. He, however, is pretty good at acting & staging events like the one that helped Belushi confess his feelings to Matilda. So he may act a bit careless in decisions, but he is smart & reliable at times for his friend, Belushi, and other kinds of events.
History
I. Pre - History
Childhood
Since childhood, Joey & Belushi were good friends.
Half A Year Ago
One day, as Joey worked as the director for the weaving industry, Belushi invited him to his client's piano concert. When he learned that Belushi's client was Matilda Rain & learned of Belushi's feelings for her, Joey secretly made a plan so his friend can show his feelings to her. After the concert, Joey lied to Belushi that he as fallen in love with Matilda. Then Joey asked him to write fan letters to her for him, since he knows Matilda's music the best (being her manager). Since then, Belushi has been writing fan letters to Matilda (for Joey) for a long time. Not only Belushi's opinions, but also his feelings about her & her music were written in those letters. They encourage Matilda when she is down, & she admired Joey for writing those letters to her. But she doesn't know that it was Belushi that has been writing them this whole time. But Belushi didn't know that it was part of Joey's plan for Belushi & Matilda to be together. It was just in though time that the climax of his plan will begin.
II. Season One
One day, he hired Lag Seeing to deliver his next fan letter to Matilda Rain. When Lag first met him, he thought that Joey wasn't that serious nor careful in his work; like when he wanted to cancel & reschedule his meeting tomorrow just so he can go out with another girl, again. And he promised his female secretary to buy her lunch in exchange for doing this, though she warned him that she won't do this again next time. As Lag looked at the letter, he was suprised to learn that it was to be delivered to Matilda Rain (since he just learned about her & her career as a pianist from Sylvette). And he was also asked Joey why he didn't put his full name on the letter (only his first name is written). Joey explained that he was one of Matilda's biggest fans, but he simply support her from the shadows. After he paid Lag the postage, Lag left to deliver the fan letter. But sometime later on the same day, Lag returned to give him a letter from Matilda herself. Lag explained based on the letter, that Matilda wanted to see & thanked him in person for sending all these fan letters, since they encourage her when she is down. Joey then shouted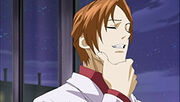 happily that his plan was a success (with Lag & NIche still there). Lag then ask him what he was talking about. Joey then explained that, trying not to praise himself, that he was handsome, rich, & popular with girls. But he didn't know what Matilda think about him; or if she is affected with appearances or titles. So he wanted to learn her sincerest feelings through his fan letters. He even plan ahead with anticipating this moment & already made a reply letter. He then ask Lag to deliver the reply letter to Matilda (the contents say that he ask her out for tea next Sunday). When that day arrived, he meet Matilda (along with Lag & Niche, because Matilda was too shy to meet him alone) at a cafe for tea. As some time pass by, he proposed to Matilda. Matilda was unsure what to answer, so Joey gave her time to think. The next day, he visited Matilda's house to offer her a bonque of roses. But then Matilda told him that she learned from Lag that those fan letters he sent were written by Belushi. She told him that he should write in his letters with his own words, even if he lack the confidence for it. She then thank him anyway & hurried with Lag and Niche to catch up with Belushi, who was planning to leave Yuusari. However, during the event, he smiled & then secretly went after them. There, he watch as Belushi finally told his true feelings to Matilda. It ended with the two walking away, as they suddenly argue about work again. Then, Joey finally appeared to Lag & Niche. He explained that he planned all of this so Belushi would finally be able to show his true feelings to Matilda, since he was Belushi's childhood friend & he knows how difficult for Belushi to tell his feelings. He,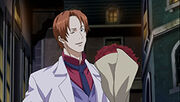 however, told Lag that during the event, he actually develop some real feelings for Matilda; sadly, he knew it wasn't meant to be. After it was finally over, Joey asked Lag to go with him to the pub so he can treat him a drink. But Lag refuses because he was underage. Then Niche decided to go there with Joey instead. But Lag shouted that she can't because she was also underage (though Lag didn't know she was over 100 years old, she hasn't mature; so I guese he was still right about her being underaged).
Trivia
1. It is a bit mysterious how he became the president/director of the weaving industry, since he acts rash & careless in decisions & act irrespossible at times. But it is possible that he only show his real intelligence & smart wits at important times like the time with Belushi having problems telling his true feelings to Matilda. (If only he considered ALL his work important as well).
2. One of his past girls he dated was Melanie.
Ad blocker interference detected!
Wikia is a free-to-use site that makes money from advertising. We have a modified experience for viewers using ad blockers

Wikia is not accessible if you've made further modifications. Remove the custom ad blocker rule(s) and the page will load as expected.