"Pardon our Dust" - this page is under construction

It may lack information until construction is complete.
The Gaichuu Daiquiri was one of the very first gaichuu to appear in the Tegami Bachi series.
Physical Appearance
Daikiri appear to be very similar to ladybugs. they have round bodies and also have round heads.
Appearance in the Series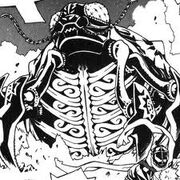 A daikiri was seen in the first episode of Tegami Bachi. It appeared from a cliff while Gauche, Roda, and Lag were travelling to Cambel Litus to deliver Lag to Aunt Sabrina.
Gauche, with Roda, managed to easily defeat it.
Later in the episode, Many other daikiri appears, attracted by Lag's heart because Lag just fired a shindan which he loaded. Gauche, awoken by the gaichuu, stands up to face them. Lag wakes up later and finds the broken metal skin of the destroyed daikiri.