"Pardon our Dust" - this page is under construction

It may lack information until construction is complete.
Day of the Flicker is an event/day that is held in the Tegami Bachi series.
Event
Twelve years ago in the 311th day of the year, the
man-made sun
flickered. The public was given no details about the occurrence. Though its light is weak, it is constant, at least it was until that moment. For one instant, the world was thrown into utter darkness. Throughout
Akatsuki
and
Yuusari
, people feared for a moment that the light was lost forever. Strange effects were reported throughout
Amberground
, which included the loss of many people's hearts. The officials from Akatsuki reported that the sun was undergoing routine maintenance work. However, many doubted this was the case, especially those from Yodaka and Yuusari. This is one of the many reasons why the people distrust the government of Ambergound. There were only six survivors from the crash of the investigating airship, but they do not talk about the case. The survivors include Singal, Signales, and Seine, all of which are now Amberground's gatekeepers (Seine died in the anime),
Dr. Thunderland Jr.
, Jick Barrol,
Hodai Franklin
, and the unnamed pilot. The rest were either crushed by the metal bars inside the blimp or had their hearts eaten by the creature on the man-made sun.
Lag Seeing
and
Sylvette Suede
were both born on that day. The 311th day of each year is remembered as the Day of the Flicker. Even in Central
Yuusari
, this day is a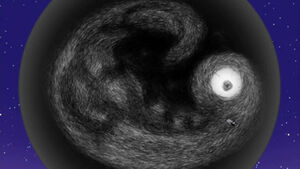 holiday, and the citizens remain quietly at home to mark the occasion. It is revealed that the crashing of the airship was not what it was said to be. Those that looked at the flicker lost parts of their heart and were disfigured, and sometimes of their memory, as was the case with Dr. Thunderland Jr. In the manga, children born on that day, such as Lag Seeing, have fragments of heart from the sun deep inside their memories. The sun also affected others on Amberground, such as
Gauche Suede
, who lost the memories and heart of his mother. 
The Five Children that are born on the Day of the Flicker
Sylvette Suede (However Lag doesn't suspect her to be one of the "Five Children")
Ponta (Animal)
???
It is suspected that the five children that were born on the Day of the Flicker have a handicap disability, but they have superhuman ability (e.g. Emil is blind, but her sense and hearing is extraordinary)
Trivia
Lawerence also stated that the Day of the Flicker is the reason why Gauche's sister is paraplegic. It is unknown if Lag's childhood illness was caused by the Day of the Flicker as well.
Gauche Suede's mother, Sylvette Suede, died on the Day of the Flicker. It is not yet known if her death is directly related to the day she died.