"Pardon our Dust" - this page is under construction

It may lack information until construction is complete.
Template:Music infobox
Chiisana Mahou is the first opening theme song of Tegami Bachi Reverse, performed by Stereopony.
Characters listed as appeared on theme
Lyrics


Sekaijuu de kimi dake ni
Utai tai uta ga aru
Omoi ga tsutawaru you ni

Kono machi wo tsutsumu kaze wa
Doko ka sukoshi tsumetakutte
Boku wa itsumo hitori datta
Sore de ii to omotteta nda

Ano hi KIMI to deatte kara
Sekai wa iro wo kaeteitta
Kisetsu wa mata sugiteku kedo
Iroaseru koto wa nai yo

Tooi KIMI he to todoketakute

Dakara

Tsutaetai KOTOBA atsume
Chiisana mahou wo kakete
Saa KIMI no moto he to okuru
Nukumori samenai you ni
Issho ni tojikometara
Omoi wa KATACHI ni naru nda

Kurikaeshite iku mainichi
Futo kizukeba KIMI no koto ga
Sukoshi zutsu fukurandeku
Boku no KOKORO umetekun da

この街をつつむ風は
どこか少し冷たくって
僕はいつも独りだった
それでいいと思ってたんだ

あの日キミと出会ってから
世界は色を変えていった
季節はまた過ぎてくけど
色あせることはないよ

遠いキミへと届けたくて

だから

伝えたいコトバ集め
小さな魔法をかけて
さあ キミのもとへと贈る
ぬくもりさめないように
一緒に閉じ込めたら
想いはカタチになるんだ

繰り返していく毎日
ふと気付けばキミのことが
少しずつふくらんでく
僕のココロうめてくんだ

街の灯り消えた頃に
僕のココロ キミが灯る
眠りにつく少し前に
僕はキミへ想いを綴る

遠いキミへと贈りたくて

だから

どんなに離れてても
待っててくれるキミが
今 僕に必要なんだ
たくさんのコトバたち
このウタに詰め込んで
キミへと届けにいくよ

二人はこの空でいつも
つながっている
そう思えば 強くなれる
やさしい気持ちになる

伝えたいコトバ集め
小さな魔法をかけて
さあ キミのもとへと贈る
世界中でキミだけに
唄いたいウタがある
想いが伝わるように

魔法をかけて
The wind surrounds this city
Felt a little cold somewhere
I was always alone
I thought I was okay with it

Since that day when I met you
My world began to change into color
Though the season is ending soon again
These colors won't fade

That's why I want to deliver it to you, who is far away

Gathering up the words I want to tell you
Casting a little magic
Well, I'll send it to where you are
So that the warmth doesn't cool off
If I confine it together
My thoughts will take shape

Everyday I repeat the same things
If you suddenly found out
That I was swelling up little by little
You would loosen my heart

When the city's light disappeared
You would light my heart
Just before I fall asleep
I continue to think about you

That's why I want to send it to you, who is far way

Even if I have to leave you
You would wait
For you needed me
A lot of words
Can be put in a song
I'll go deliver it to where you are

Both of us are always connecting through this sky
So if I can feel it
My gentle feelings will become stronger

Gathering up the words I want to tell you
Casting a little magic
Well, I'll deliver it to where you are
Throughout the world
There's a song I only want to sing to you
So to convey these feelings

I'll cast a magic
Video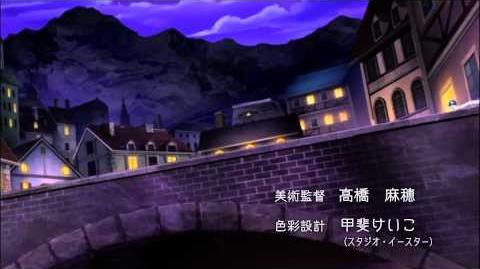 Ad blocker interference detected!
Wikia is a free-to-use site that makes money from advertising. We have a modified experience for viewers using ad blockers

Wikia is not accessible if you've made further modifications. Remove the custom ad blocker rule(s) and the page will load as expected.