Beehive, 13 Nocturne Way, Central Yuusari is the 6th overall chapter of Tegami Bachi Manga
Description
After being approved by Signal to pass, Lag and Niche with Steak proceed onto Bifrost Bridge until they reach the gatekeeper for the bridge on the Yuusari side, Signales. After passing through the gate, they are greeted by Connor.

After the Letter Bee Examination, Connor promises Lag that they will visit Sylvette Suede's house, as it too is located in Yuusari. For now, however, they proceed to the Bee Hive for the Letter Bee exam.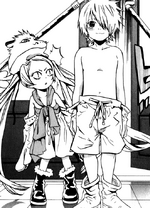 Soon, Lag and Niche break for the entrance of the Bee Hive, where they greet everyone, before they are greeted by
Aria Link
, Assistant Director (AKA Sub-master). She takes them to meet the Director/
Head Bee
,
Largo Lloyd
—to whom Lag and Niche are afraid of until they figure he is the Director of the Bee Hive.
Aria then introduces them to fellow examinees, McKay G., with his Dingo, Rejia. In addition, Richard Belzaris B. B. Becktratus, Jr. and his dingo, Rebemius Breiguroa Banjorelo the Second—a golden ball lizard—comparable to the Armadillo girdled lizard.

All of the examinees are to head to the place named on the map as, "Goods Collection" at 5 O'Clock. Soon, Niche is shown as apparently to have defeated Richard's dingo; therefore, he withdrew from the exam.
Ad blocker interference detected!
Wikia is a free-to-use site that makes money from advertising. We have a modified experience for viewers using ad blockers

Wikia is not accessible if you've made further modifications. Remove the custom ad blocker rule(s) and the page will load as expected.