"Pardon our Dust" - this page is under construction

It may lack information until construction is complete.

Bee Hive is the office of Letter Bee's and where the letter's kept there. Bee Hive (BEE-HIVE Yūbinkan Hachi no Su?, lit. Mail House Beehive): The headquarters of the delivery service where all the "Bees" work. Located in Yuusari, the middle-class area of AmberGround.
Workers
1. Largo Lloyd (Headmaster)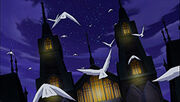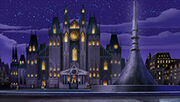 2. Aria Link (Secretary)
3. Gauche Suede (Ex - Letter Bee)
4. Lag Seeing (Letter Bee)
5. Zazie Shrine (Letter Bee)
6. Connor Kluff (Letter Bee)
7. Moc Sullivan (Letter Bee)
8. Jiggy Pepper (Letter Bee)
9. Elena Blanc (Letter Bee - Deceased)
10. Dr. Thunderland Jr. (Medic/Scientist)
11. Mana Jones (Medic/Scientist)
12. Lily Confort (Letter Bee - Deceased [Manga Only])
13. Signal and Signales (Ex - Letter Bees/Gatekeepers)
14. Caribs Garrard (Ex - Letter Bee/Ex - Reverse Member [Anime]) (2nd Headmaster [Manga])
15. Hunt (Medic)
16. Sarah (Assistant)
Dingos
1. Niche (Lag's Dingo/Maka)
2. Roda / Roda [Human] (Gauche Suede's Dingo)
3. Steak (Niche's Pet/Meal)
4. Gus (Connor's Dingo)
5. Wasiolka (Zazie's Dingo)
6. Harry (Jiggy's Dingo)
7. Krank (Moc's Dingo)
8. Darwin (Elena's Dingo - Deceased)
9. Bolt (Aria's Dingo)
10. Sawan (Lily's Dingo - Unknown Status)
11. Alonji (Signal & Signales Pet/Dingo)
12. Hazle Valentine (Caribs Garrard's Dingo)
Clients
1. Anne Seeing
4. Joey
Ad blocker interference detected!
Wikia is a free-to-use site that makes money from advertising. We have a modified experience for viewers using ad blockers

Wikia is not accessible if you've made further modifications. Remove the custom ad blocker rule(s) and the page will load as expected.