A Reunion, Tears, Tears, Tears is the 17th overall chapter of Tegami Bachi Manga
Description
The mysterious man has stolen Lag's assigned letter that was addressed to The Man Who Was Unable to Become Spirit. Lag tries to convince him that he knows him and that Sylvette Suede is his sister.

The man then says he's Noir, a Marauder, and then shoots Lag with a shindan to stun him. This evokes memories of Noir becoming part of Reverse, and being assigned a name (Noir). Meanwhile, Niche and Roda finish up their battle, with Roda calling Niche a failed dingo.

Lag and Niche report the information back at the Bee Hive to Dr. Thunderland, Largo Lloyd, and Aria Link. Lloyd tells him of numerous reports of letter theft, as Marauders are commissioned to do so.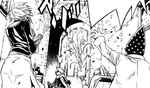 Niche, meanwhile, dwells on being a failed dingo, and then leaves her underwear behind and leaving Sylvette's house. Lag comes home to a surprise party, to which, Sylvette, Aria, and
Connor
are celebrating Lag finally finding
Gauche
. Lag and Sylvette cry together, before Lag realizes Niche has left her underpants. Therefore, he decides to go and search for her.
Ad blocker interference detected!
Wikia is a free-to-use site that makes money from advertising. We have a modified experience for viewers using ad blockers

Wikia is not accessible if you've made further modifications. Remove the custom ad blocker rule(s) and the page will load as expected.